What Is A Pre-Order?


Some of Mr Positive's products are only available on "Pre-Order". Pre-Order items are ordered in specially for you, after you have completed your transaction and made payment on the Mr Positive website. In most cases, Pre-Order products are imported.
The reason we order (and or import) these items in specially for you is that these particular products are usually very specialised and typically have a shelf life. This is especially the case for specialised replacement batteries for portable electronics. As such, these products are ordered in fresh and clearly listed as "Pre-Order" on our website.
How Do I Know If The Products I Am Interested In Is Pre-Order?
If you visit any online retailer website, you will see almost all have an "Add to Cart" button. This allows the shopper to add the item they wish to purchase to a shopping cart, where you enter delivery details and make payment from there.
When one of our products is only available on Pre-Order, the Add to Cart Button is replaced with "Pre-Order". Here is an example: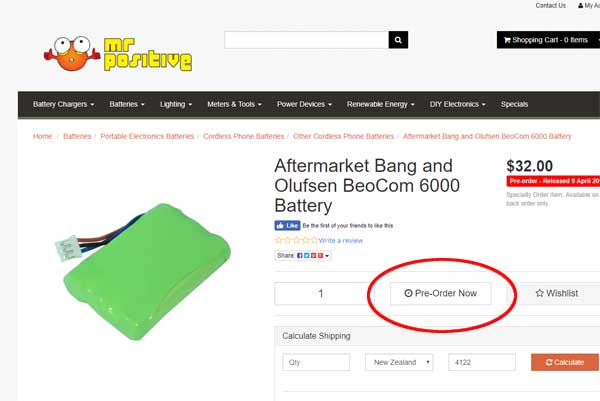 We also list a real time estimated time of arrival in a large red box below the price. Here is an example: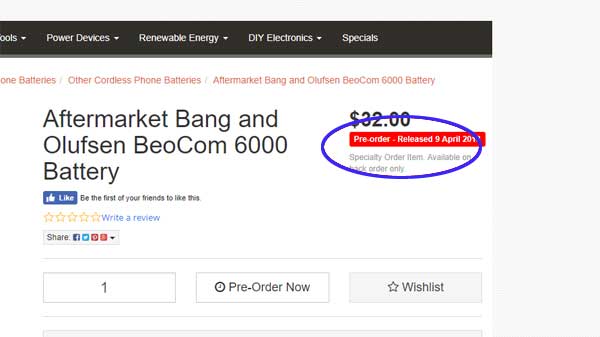 On all our products we also list an availability setting. Often this is listed as 24 hours for products stored in our Auckland warehouse. For special order items it lists: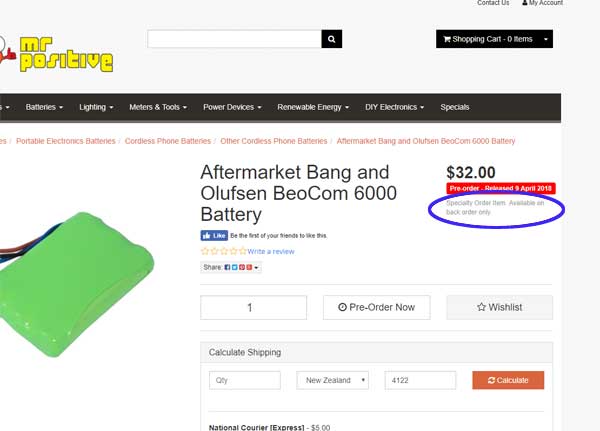 When Can I Expect My Item?
For all our Pre-Order items we list an estimated time of arrival directly below the listed price.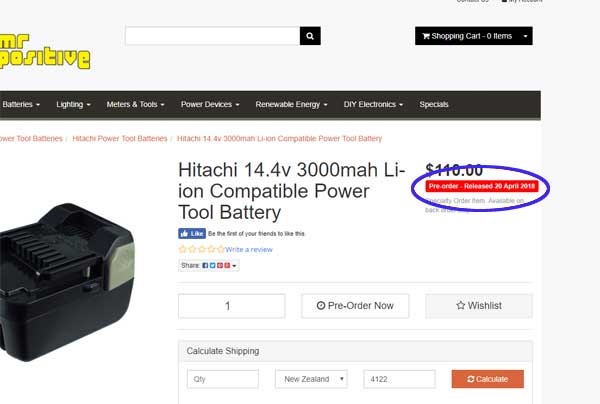 Could My Order Be Delayed?
As with any form of large scale logistics and imports that rely on either air or ground transport, there is a possibility of unexpected delays.
In recent times, this is particularly the case for specialised lithium-based batteries. All Lithium based batteries need to travel by sea and follow a series of processes. These processes differ for each carrier and are not always black and white. Even though Mr Positive has participated in such processes nearly 100 times, there is always more to learn! As such, it is possible that there may be the odd delay outside of our control. If this is the case, we will do our best to notify you.
If your order has been delayed, we will provide you a new ETA. At this point you can request an immediate full refund or chose to wait based on the new ETA provided.
What If I Want to Order A Number Of Items?
If you order several items and some of them are only available on Pre-Order, our sales team will split your order, shipping the in stock and available items immediately. Placing the item(s) that are only available on Pre-Order on back order.